Cell seeker (berbayar)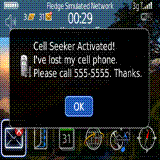 Cell Seeker® provides the ability to locate a lost or stolen cell phone. For example: Did you lose your cell phone in your house but it's set to vibrate? Activate Cell Seeker® via e-mail from your computer or from an SMS message using an alternate cell phone account. Activation will cause your misplaced phone to flash and ring with the audio of your choice. You can include a message which contains information for the return of your phone. This message will be displayed on the main dialog screen of your missing phone - (Example: I've lost my cell phone, please call 555-555-5555). When Cell Seeker® is activated, you will receive a return email or SMS confirmation response which contains GPS coordinates for use with the online map application of your choice. This will enable you to view an interactive detailed map of the phone's location. A great tool if your phone happens to be at the corner drugstore.
Cell Seeker® can be activated quietly via email or SMS which allows for retrieving the current location of your cell phone without any visual or audible notifications that Cell Seeker® was activated. A great tool for parents!
Automatically lock your phone upon activation, requiring a valid password to continue using the cell phone.
SIM replacement check monitors the SIM card in your cell phone, and if the SIM card is replaced, Cell Seeker® will require a password prior to permitting use of the cell phone. The GPS location of the cell phone will also be sent to a pre-defined SMS address containing the location of the cell phone. Optionally, Cell seeker® will play an audio alert upon SIM replacement.
Remote Wipe provides the ability to remotely wipe specific data from your cell phone.
Cell Seeker® runs in the background and is always listening. Cell Seeker® automatically starts when the cell phone is powered up or reset. No worries though, your GPS will never run unless Cell Seeker® is activated.
Visit the Cell Seeker website to download user documentation.
SPECIAL NOTE: Registered users of previous versions of Cell Seeker® whose version numbers begin with 4.x.x.x can download the trial version and apply their registration key.
Features:
* Easily locate your lost or stolen cell phone
* Listens to incoming email or SMS messages
* Displays a message on the phone's display when activated
* Lock you phone upon activation
* Plays audio alert and flashes LED when activated
* Quiet Activation (No audible or visual alerts)
* Sends email or SMS confirmation messages
* GPS coordinates of the cell phone sent via confirmation email or SMS
* GPS Timeout settings to improve on location accuracy
* Email & SMS responses contains link to Google Maps with your cell phones location
* Runs in the background and utilizes minimal resources
* Automatically runs when the cell phone is turned on
* Option to define the email and SMS activation sources
* Option to define the activation text
* Option to define audio notification via the phones Profiles settings
* Option to define LED flash rate and colors
* Option to enable Password Protection
* SIM Replacement Notification
* Remote Wipe
* Many more options available
* User friendly interface
* Integrated Help
Os 5.0 :
http://www.mobireach.com/upload/409/31409/CellSeeker.jad
Os 4.7 :
http://www.mobireach.com/upload/630/50630/CellSeeker.jad
Os 4.6 :
http://www.mobireach.com/upload/628/50628/CellSeeker.jad